Dunedin Canmore Housing Association's tenants gave their vote of approval to Optivote in their October conference in Edinburgh.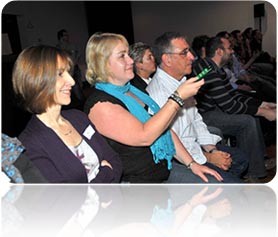 Measuring the association's progress and sharing tough economic news with their tenants Dunedin Canmore used the Optivote system to get immediate and open feedback.

The results prompted Harry Woodward to comment:

"Thanks so much for the Optivote system for our Tenants conference and your support before the event and on the day.


Tenants voted the event (our fourth) the best ever and especially the question and answer session, which not only gave them the chance to feedback their views, but showed the answers they gave straight away - proof that it was a worthwhile exercise in not only getting their views but showing what we need to do together in the future (and confirm the great progress we are making on service delivery!).

Having used Optivote at the Staff Conference and now the Tenants Conference, I think it will be a large part of future consultation we do with staff and tenants and it's great to think we can call on you in the future to help with this."

Harry Woodward
Tenant Participation Officer
Dunedin Canmore Group

Web address www.dunedincanmore.org.uk