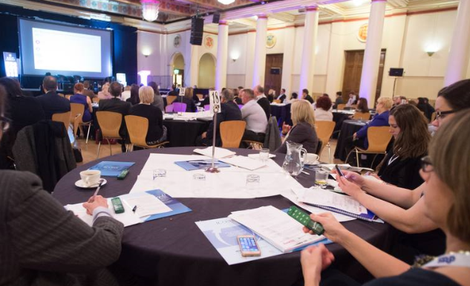 As part of Work in Progress 2015, Carley Consult were keen to create an event which was truly interactive and very much delegate focussed.  Carley Consult approached Optivote to assist with their 'Interactive Work in Progress Survey' which gathered opinion from over 100 delegates on key issues facing their industry.  The system was also used throughout the day for one off questions and to compare opinions before and after sessions.
Each delegate was issued with an Optivote interactive handset with which they could enter their answer choices.
Complicated and in depth answer options were discussed then voted upon with live displayed results shared with the audience stimulating informed debate.
The corporate theme was enhanced with the four main logo colours used in the results display histogram. The results of the survey were compiled after the conference and sent to all attendees which gave Carley Consult a further opportunity to connect with delegates and share information with the wider industry.
"Thank you Optivote for all your help with Work in Progress 2015. Your efficiency, advice and experience ensured that we were fully prepared and that the session ran smoothly.   As an added bonus you also kept our tech team on track, glad your eagle eyes were on our team".
Jane Shelley
Training & Events Manager
Carley Consult Ltd